Le récap des albums du mois d'avril 2021
Le récapitulatif complet des albums chroniqués en avril, avec : Floating Points, Pharoah Sanders, Olivier Rocabois, Joy Guerrilla, Valerie June, Myles Sanko, Carwyn Ellis & Rio, Julien Sagot, La Femme, The Invisible Session, STR4TA, Ryley Walker, L'Impératrice, Zo! & Tall Black Guy, Nick Waterhouse, Bravo Tounky, Secret of Elements...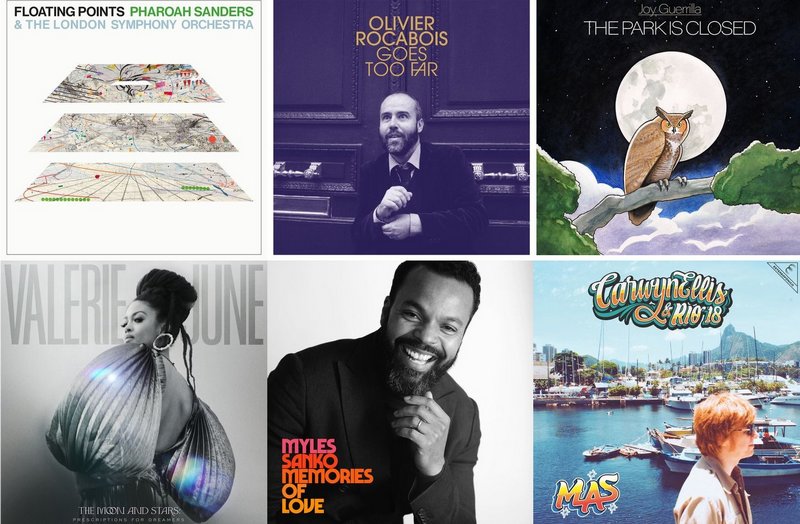 Dans les chroniques du mois d'avril (qui contiennent des sorties du mois mars) se détachent deux albums qui ont fait l'unanimité critique :  Promises de Floating Points, Pharoah Sanders & The London Symphony Orchestra dans un style que l'on qualifiera d'ambient jazz et en matière de pop, Olivier Rocabois avec son Olivier Rocabois Goes Too Far. le 3e est un disque de jazz funk fusion très 70's épatant signé Joy Guerrilla (The Park is closed). 
Le récap complet des albums chroniqués en avril 2021 :
❤❤❤❤
Floating Points, Pharoah Sanders & The London Symphony Orchestra – Promises
Olivier Rocabois - Olivier Rocabois Goes Too Far
Joy Guerrilla – The Park Is Closed
❤❤❤
Valerie June – The Moon And Stars: Prescriptions For Dreamers
Myles Sanko – Memories of Love
Carwyn Ellis & Rio 18 – Mas
Julien Sagot – Sagot
La Femme – Paradigmes
The Invisible Session – Echoes Of Africa
STR4TA – Aspects
Ryley Walker – Course in Fable
L'Impératrice – Tako Tsubo
Zo! & Tall Black Guy – Abstractions
Nick Waterhouse – Promenade Blue
Bravo Tounky – Flash Détente
Secret of Elements – Chronos
❤❤
Tomaga – Intimate Immensity
Non Dolet – V
Stefano Di Battista – Morricone Stories
Joseph Schiano di Lombo – Musique de Niche
Benny Sings – Music
J Foerster / N Kramer – Habitat
Renée Reed – Renée Reed
Howie Lee – Birdy Island
Alexandre Bazin – Concorde
Ballaké Sissoko – Djourou
Cory Hanson – Pale Horse Rider
Roger Fakhr – Fine Anyway
The Zenmenn – Enter The Zenmenn
❤
La playlist du mois sur deezer/ youtube / spotify :
Toutes nos playlists sont à retrouver sur Youtube  Spotify et Deezer
Please follow and like us: