Jonathan Boulet - We Keep The Beat, Found The Sound, See The Need, Start The Heart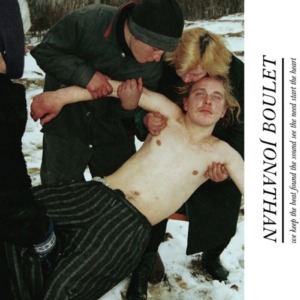 Ne cherche pas l'album pop/rock de ton été 2012, on l'a trouvé ! Il est signé Jonathan Boulet, un australien qui sort là 12 titres époustouflants d'envie, de vitalité et d'énergie. De quoi largement tenir jusqu'aux premiers frimas de l'automne.
Après une première sortie en catimini en 2009, Jonathan Boulet refait surface entouré de quelques amis pour un second album en forme de déferlent pop-rock, comme une vague énorme et rafraîchissante qui vient tout recouvrir sur son passage.  A grands coups de roulements de batteries, de guitares speedées, de breaks incessants (mais tellement stimulants !), de xylophone, de flûte, de marimba et de chœurs majestueux, Jonathan Boulet nous propulse dans un tourbillon musical sans fin et dont on ressort presque étourdi.
Malgré sa pochette aux allures punk-hardcore, c'est plutôt du côté de The Dodos qu'il faut aller chercher des ressemblances. Mais là ou le trio de San Francisco la joue souvent à l'économie (dans les moyens plus que dans l'énergie, précisons-le), l'australien, lui, sort les couverts en argent et la vaisselle en porcelaine pour un formidable raout musical, conviant à sa table les fins esprits d'Animal Collective, Fleet Foxes ou Vampire Week-end ; parvenant à tutoyer très vite tous ces joyeux convives.
Mélodies franches, rythmes échevelés et soutenus, arrangements festifs, "We Keep The Beat…" est une invitation au réveil en fanfare, à la fête, à la danse tribale et à la bonne humeur. Et c'est forcément un album majeur en cette année 2012.
[9/10]
Jonathan Boulet – We Keep The Beat, Found The Sound, See The Need, Start The Heart
Modular/la baleine
sortie : juin 2012
A écouter sur deezer et spotify
Please follow and like us: