Le récap des albums de mars 2022
Mes albums favoris pour mars sont signés Jean-Michel Blais, Emmanuel Tellier, Joel Lyssarides, Big KRIT, King Hannah, Bon Voyage Organisation, YĪN YĪN, Kristine Leschper, Athanase Granson, Jenny Hval, Federico Albanese, David Garland...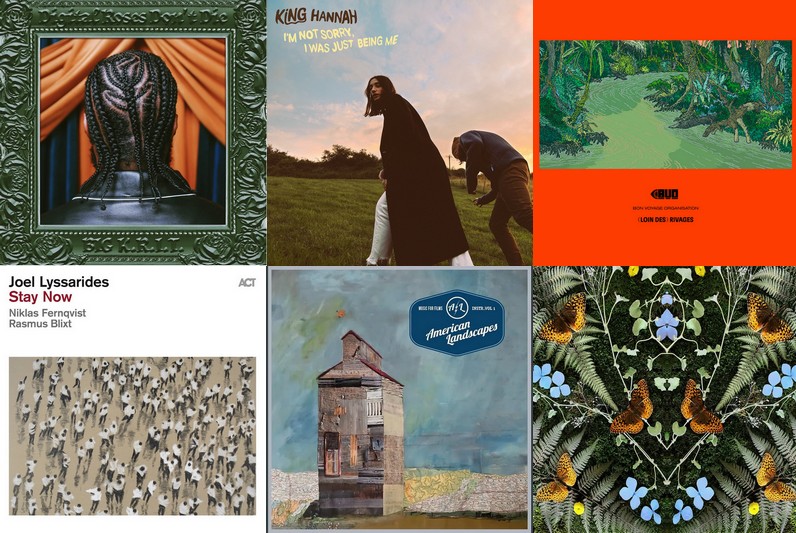 21 albums chroniqués en mars avec de belles découvertes parmi lesquelles on retiendra en priorité  King Hannah, Athanase Granson et Joel Lyssarides. Mais aussi des confirmations avec Emmanuel Tellier, Jean-Michel Blais ou encore Jenny Hval, Bon Voyage Organisation.
❤❤❤❤

Jean-Michel Blais – aubades
Emmanuel Tellier – American Landscapes (Music for films Instr. Vol 1)
Joel Lyssarides – Stay Now
❤❤❤

Big KRIT - Digital Roses Don't Die
King Hannah – I'm Not Sorry, I Was Just Being Me
Bon Voyage Organisation – (Loin des) rivages
YĪN YĪN – The Age of Aquarius
Kristine Leschper – The Opening, Or Closing Of A Door
Jeremiah Chiu & Marta Sofia Honer – Recordings from the Åland Islands
Athanase Granson - L'Opium
Jenny Hval – Classic Objects
Federico Albanese – Before and Now Seems Infinite
David Garland – Tactility
Peter Doherty et Frédéric Lo – The Fantasy Life of Poetry & Crime
April March – In Cinerama
❤❤

Dufourd & Demoulin – Entre Chien et Loup
Rex Orange County – WHO CARES ?
Rob Burger – Marching with Feathers
Selah Sue – Persona
The Jazz Defenders - King Phoenix
Andrew Tasselmyer – Limits
❤
...
Please follow and like us: