Le récap des albums de février 2022
Mes albums favoris pour février : Group Listening, Rooydad, Sowal Diabi, The Delines, Jonathan Fitoussi & Clemens Hourrière, Imarhan, Laurent Bardainne & Tigre d'Eau Douce, eels, 'T Geruis, Pan•American, Emilie Zoé, Lewis OfMan, Julia Gjertsen...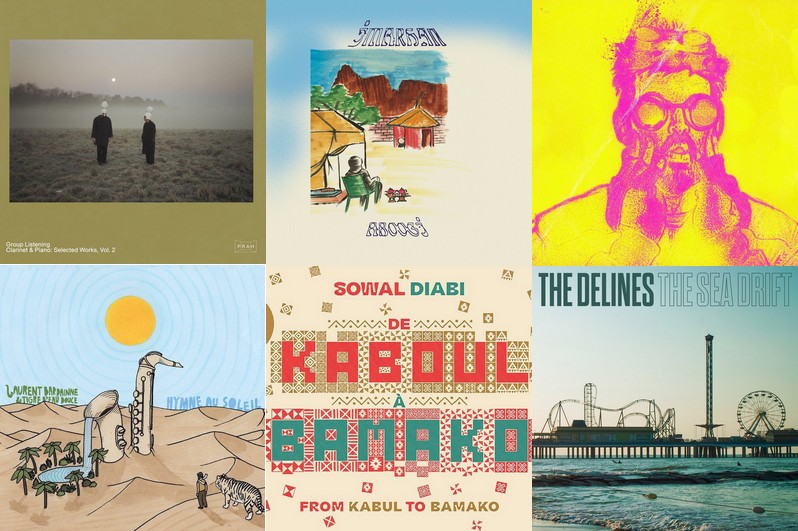 Un mois de février assez copieux avec 25 albums chroniqués parmi lesquels deux belles choses en matière d'ambient music avec deux découvertes Rooydad et Zguba dans un registre assez similaire. On notera aussi le très beau retour du duo The Delines, la régularité de Imarhan et on saluera le très beau projet Sowal Diabi.
Le récap complet des albums de janvier 2022  :
❤❤❤❤
Group Listening – Clarinet & Piano: Selected Works, Vol 2
Rooydad – Entanglement
Sowal Diabi – De Kaboul à Bamako
The Delines – The Sea Drift
❤❤❤
Jonathan Fitoussi & Clemens Hourrière – Möbius
Imarhan – Aboogi
Laurent Bardainne & Tigre d'Eau Douce – Hymne au Soleil
eels - Extreme Witchcraft
'T Geruis – Slow Dance on Moss Beds
Pan•American – The Patience Fader
Emilie Zoé – Hello Future Me
Lewis OfMan – Sonic Poems
Julia Gjertsen – Formations
The Second Hand Orchestra - Reimagining the wide, wide river
Saba - Few Good Things
Kerbside Collection - Round The Corner
Erin Rae – Lighten Up
Zguba – Znój
❤❤
Miho Ota & Paniyolo – 空と花 (Sora to Hana)
Wataru Sato – Fading Spaces
Soichi Terada - Asakusa Light
Fort Romeau - Beings of Light
Keeley Forsyth – Limbs
Gasoline – The Orange Album
Erik Wøllo – Sojourns
❤
...
Please follow and like us: