Shawn Lee : Golden Age Against The Machine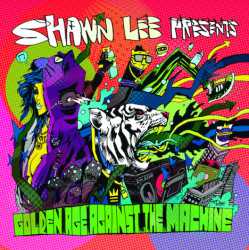 On le sait depuis longtemps, Shawn Lee est un entertainer de première classe, un musicien capable de toutes les prouesses musicales, un touche-à-tout talentueux, à l'aise dans tous les genres et qui réussit tout ce qu'il entreprend avec classe et panache. On a pu notamment s'en apercevoir  avec les albums "Celestial Electric" et "Reel To Reel" parus en 2012, sur lesquels il s'appropriait les vieillies sonorités funk, soul,  jazzy-beat, mais aussi les musiques lounge-music ainsi que les BO de séries Z des années 70 avec une maitrise et plaisir plus que partagé par l'auditeur.
Cette fois, il s'attaque au hip hop, celui du début des années 80, celui qui se jouait casquette à l'envers,  ghetto-blaster sur l'épaule, survêt Adidas satiné et baskets blanches aux pieds.
Comme à la grande époque, il ne manque rien à cette production : ça groove, les sonorités vintage et les gimmicks fleurissent sur chaque titre et le flow impeccable des invités (Princess Superstar, Bus Driver, Earl Zinger) est à l'avenant.
Plus qu'un album en forme de clin d'œil, "Golden Age Against The Machine" est une réalisation de très belle tenue, à la fois pleine de légèreté et de maitrise, pour un résultat qui ne souffrira d'aucune contestation et ravira les fans de ce natif du Kansas qui mériterait d'avoir au moins une reconnaissance égale à celle de Gonzales.
[8/10]
Shawn Lee – Golden Age Against The Machine
BBE / La Baleine
Sortie : 5 mai 2014
à écouter sur Deezer et Spotify
Please follow and like us: