Bonny Light Horseman – Bonny Light Horseman
Le trio Bonny Light Horseman porté par les voix de Mitchell, Eric D. Johnson reprend quelques titres du répertoire folk traditionnel dans un album irrésistible.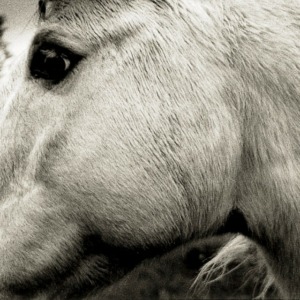 Une bonne tête de cheval en guise de pochette d'album ne peut laisser augurer que quelque chose de bien sympathique. En l'occurrence, il s'agit là d'un album de folk dans lequel le trio composé de Anaïs Mitchell, Eric D. Johnson (échappé de Fruit Bats) et Josh Kaufman (guitariste pour Josh Ritter et The National) se livre a un exercice de relecture de morceaux issus du répertoire folk traditionnel.
Des voix et des guitares qui se marient à merveille à travers dix titres délicieusement langoureux. Plus proche de
The Innocence Mission
que de
Bonnie 'Prince' Billy
, le style de
Bonnie Light Horsman
se révèle tout de suite très cosy, très agréable, sans la moindre faute de goût et devrait ravir les amateurs du genre... et même les autres.
L'album, qui est sorti sur 37d03d Records (le label de Aaron Dessner et Justin Vernon),  prend au fil des des écoutes des allures de balade mentale et sensorielle pour apprécier un peu plus à chaque fois ces petits bijoux de sensibilité et de simplicité que sont Jane, Jane, The Roving ou Bright Morning Stars.
Label : 37d03d Records
Date de sortie : 24 janvier 2020
Rating : 7.8
Please follow and like us: