Les sorties d'albums pop, rock, electro, rap, jazz du 4 mai 2018
La revue fait son retour en mode Full Screen avec les dernières sorties remarquables du moment. Cette semaine, elles sont signées Adam Stafford, Damien Jurado, Gabriel Naim Amor, Lion In Bed, Jessica Risker...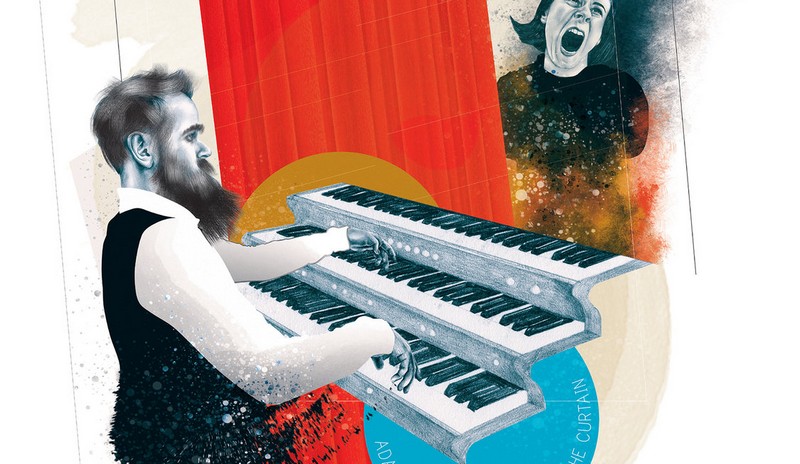 De très belles choses pour débuter ce mois de mai 2018 :
Commençons cette sélection avec le disque le plus étonnant et le plus inclassable de la semaine, une vraie curiosité signée de l'écossais Adam Stafford avec une production qui mêle néo-classique et musique répétitive, avec une petite touche d'expérimentale. A découvrir !
Plus classique mais tout aussi intéressant, le nouveau Damien Jurado, The Horizon Just Laughed, qui ne sort pour l'instant qu'au format physique (bizarrement le format streaming est annoncé seulement pour juillet) est encore une fois un chef-d'œuvre ! Un album en forme de road-movie à travers l'Amérique mythique pour un artiste qui touche au sublime à chaque sortie ou presque.
De voyage et de délicatesse il en sera également question dans le nouvel album de Gabriel Naim Amor. Le compagnon de route de Calexico signe un disque là encore très dépaysant et très beau.
Restons si vous le voulez bien dans les sonorités Folk avec les albums de Jessica Risker, Logar et Lonny Montem. Trois univers très doux et subtils dans lesquels on plongera sans retenue.
Depuis la fin de Supergrass, Gaz Coombes suit une carrière solo discrète mais avec des disques toujours intéressants à l'image de ce troisième LP aux tonalités pop mélancoliques très agréables. Intéressant aussi le nouvel album du groupe français Adam And The Madams, avec ses sonorités garage rock 60's. Français encore avec le premier album de Lion In Bed, duo réunissant le couple Mickaël Mottet (Angil and the Hiddentracks) et Schérazed (Dotsy Dot) dans un style à la fois très personnel et très varié tout comme ont pu l'être les précédentes productions de Mickaël Mottet.
A découvrir également :
Du côté de l'électronique, on découvrira les nouveaux Jon Hopkins et DJ Koze. A ne pas manquer nos plus, la  compilation rock psyché folk et garage très amicale du label Le Pop Club, les ambiances electro dark très prenantes de Vive la Void, les versions inédites de Jay-Jay Johanson, la mélancolie folk de The Hedge Schools, le jazz groovy impeccable de Joe Armon-Jones, l'Indie rock de Iceage, le retour de Eleanor Friedberger, le nouvel album de chanteur pianiste ROUGGE accompagné de son quintette et présenté en avant-première sur Benzine, l'ambeint de Porya Hatami & Arovane mais aussi celle du toujours impeccable Chris Weeks, la compil groove disco d'Alex Attias, les bizarreries electro lo-fi de Black Moth Super Rainbow, le romantisme de Daniel Blumberg, le jazz relax de Andy Sheppard & Espen Eriksen Trio, le jazzy beat ralenti et très original de Nicky Roberts, et pour finir l'album ambient envoûtant de Les Halles. Bref, il y a largement de quoi faire son marché cette semaine !
La sélection de la semaine en détail :
Indie-Pop, Dream pop, Shoegaze, Electro-pop, French Pop, folk...
Eleanor Friedberger - Rebound
Jessica Risker - I See You Among the Stars 


Logar - A Year In A Life


Gabriel Naim Amor – Moments Before


Lonny Montem & Guillaume Charret - Tara
Damien Jurado - The Horizon Just Laughed
Jay-Jay Johanson – Looking Glass, Vol. 2 (Bury the Hatchet Bonus Album)
The Hedge Schools – Magnificent Birds 


FAN – Barton's Den

Rock, Punk, Garage, Noise, krautrock, Post-rock, Stoner...
Iceage - Beyondless
Lion In Bed - Lion In Bed
Adam and the madams - Macadamia
Vive la Void – Vive la Void


Gaz Coombes - World's Strongest Man
Daniel Blumberg - Minus
Amigos Amigos ! - Compilation Le Pop Club 

Electro, house, electronica, techno...
Jon Hopkins - Singularity
Ghost Vision - Saturnus


DJ Koze - Knock Knock
Black Moth Super Rainbow - Panic Blooms
Ambient, expérimental, modern classical...
Les Halles - Zephyr 


Adam Stafford - Fire Behind The Curtain


ROUGGE - Cordes


Porya Hatami & Arovane – Kaziwa


Ben McElroy - The Word Cricket Made Her Happy


Chris Weeks – The Glass Ceiling


Xu – Whisper My World

Rap, Hip hop, Beats, chillhop, Abstract, R'n'b...
Leon Bridges - Good Thing
Jazz, world, funk, groove, nu soul, blues...
Nicky Roberts - The Sensitive Touch
Joe Armon-Jones - Starting Today 


Andy Sheppard & Espen Eriksen Trio – Perfectly Unhappy
Alex Attias presents LillyGood Party!

Please follow and like us: