Tahiti Boy & The Palmtree Family - Good Children Go To Heaven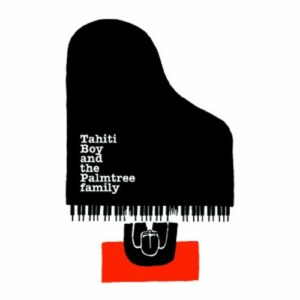 Il est des disques à côté desquels on aurait pu passer  sans rien remarquer (la faute peut-être à un nom et une pochette qui ne disent rien ou pas grand chose) jusqu'au moment où l'on se décide enfin à poser le disque sur la platine et à entamer l'écoute. Dans le cas de Tahiti Boy and The Palmtree Family, ce fut une grand découverte, un grand bonheur musical... le genre de disque que l'on imaginait pas que l'on puisse encore en faire des comme ça à notre époque.
Projet mettant en commun des membres de
Poney Poney
,
Syd Matters
et
Tanger
avec en guest
Tunde Adebimpe
de
TV on the Radio
,
Tahiti Boy and The Palmtree Family
est un super french big band dont le style, la fraîcheur et l'éclat rappelle invariablement celui de
Robert Wyatt
dont l'ombre semble planer tout au long de l'album.Un vrai album de copains, sans cadre véritable, sans limites non plus où l'on sent ses membres s'être lassés aller au fil de leur inspiration et du vent, usant d'une batterie de bons vieux instruments… une façon de faire, qui rappelle aussi d'autres grands noms de la pop que peuvent être les
Beatles
ou les
Beach boys
.
Bref un travail d'orfèvrerie collectif, éclatant de talent et d'envie, pour un groupe que l'on souhaite évidement voir continuer l'aventure musicale tant ces 12 titres sont en tout point une réussite.
[8.5/10]
Third Side Records/Discograph
Sortie : mai 2008
à écouter sur deezer
Please follow and like us: