Jim O'Rourke - All Kinds Of People Love Burt Bacharach
A la tête de ce tribute hommage, on retrouve l'iconoclaste Jim O'rourke, sans doute le dernier auquel on aurait pu penser pour ce type de projet, tant sa musique semble, à la base, très loin de celle du crooner de Kansas City.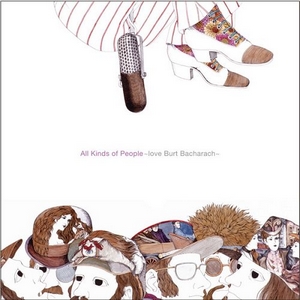 Plutôt habitué aux musiques post-rock et expérimentales, ce pilier de la scène de Chicago nous présente là des reprises soignées, bien dans le respect et la tradition du travail orchestral original de Burt Bacharach, avec des arrangements somptueux, à la fois pop et jazzy, très agréables.
Si Jim O'rourke est aux manettes, tenant notamment la guitare et les claviers, on retrouve également  Thurston Moore et Glen Kotche (le batteur de Wilco), les voix de Kahimi Karie, de Yoshimi du groupe Boredoms mais aussi Haruomi Hosono du Yellow Magic Orchestra. Ensemble, ils forment un improbable orchestre duquel ressort une osmose incroyable et surtout des perles de pop music, habilement interprétées, avec juste ce qu'il faut de liberté et d'idée pour ne pas tourner à la simple réinterprétation.
Du sublime et délicat "Do You Know The Way To San Jose" chanté par Kahimi Karie, le sommet incontestable de l'album, à la pop tranquille de "Always Something There To Remind Me", avec la voix de Thurston Moore, en passant par le délirant "After The Fox" repris par Akira Sakata et Masaya Nakahara, il n'y a absolument rien à jeter dans ces 11 reprises du maitre qui, une fois réunies, donnent l'un des albums les plus attachants de cette année 2010.
[9/10]
Jim O'Rourke - All Kinds Of People Love Burt Bacharach
Label ADWD/import - 2010
Tracklist :
1. Close To You (Haruomi Hosono)
2. Always Something There To Remind Me (Thurston Moore)
3. Anonymous Phone Call (Jim O'Rourke)
4. After The Fox (Akira Sakata & Masaya Nakahara)
5. You'll Never Get To Heaven (Aoyama Youiti)
6. Do You Know The Way To San Jose (Kahimi Karie)
7. Don't Make Me Over (Kosaka Tadashi & Jim O'Rourke)
8. Raindrops Keep Fallin' On My Head (Koike Mitsuko)
9. I Say A Little Prayer (Yoshimi)
10. Trains And Boats And Planes (Jim O'Rourke)
11. Walk On By (Donna Taylor)
Please follow and like us: